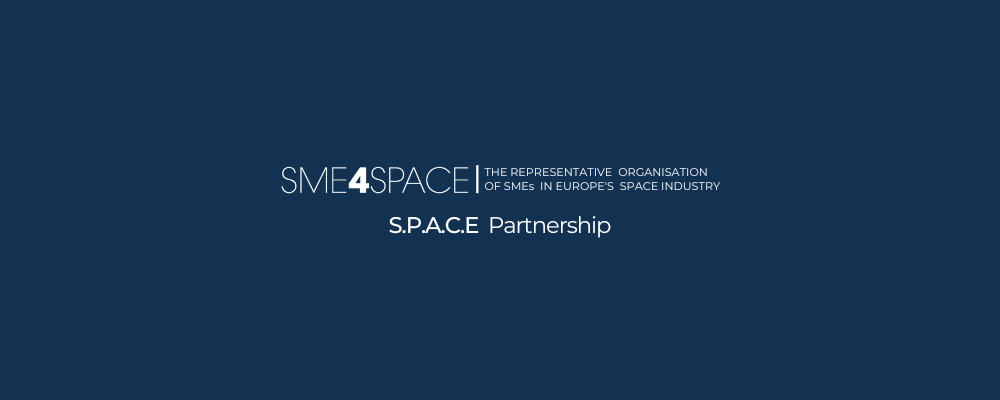 What is the SPACE Partnership
Scope of the space partnership and timing
The co-programmed partnership for space will start in the second half of 2023. Through this partnership, the SME4SPACE members have a unique opportunity to define the topics of the next calls of Horizon Europe. SME4SPACE is looking for contributors to elaborate the work programmes, to define roadmaps and to provide inputs in the domains covered by the space partnership.
Please inform us of your interest by sending a message to info@sme4space.org.
What is the SPACE Partnership
The space partnership entitled 'Globally Competitive Space Systems' gives SMEs the opportunity to discuss with the European Commission the priorities of Horizon Europe in 2025-2027. Through dialogue, working groups and road mapping activities, our members will be able to determine the topics for inclusion in the next calls of Horizon Europe for the domains covered by the partnership. Thanks to the space partnership, SMEs will contribute to the programming of the EU for the next years and this as of the second half of 2023.
Scope of the space partnership : The upstream space sector
We are looking for contributors and members that want to express their views and provide inputs in the following domains:
Foster competitiveness of end-to-end systems and associated services

Telecommunication systems
Earth Observation
Ground Segment aspects
Data Chain aspects

New industrial processes and product tools

Digitalisation and automation
MAIT at larger-scale
Lean qualification processes

Innovation for launchers competitiveness targeting initial operational capabilities by 2030

Smart technologies (higher autonomy, in-flight configurability, modular wireless avionics with smart sensors)

Fostering and enabling new commercial space transportation solutions

New space transportation services & concepts

Technologies to improve versatility, cost reduction & flexibility

New services requiring re-entry

Standardisation of services and actions promoting the use of COTS components
A full description of the SRIA and the above mentioned chapters, can be found on the website of the European Commission.
Working Groups will start in the autumn of 2023. The deadline for sending the contributions to the work programme 2025 to the European Commission is set at 15 March 2024.