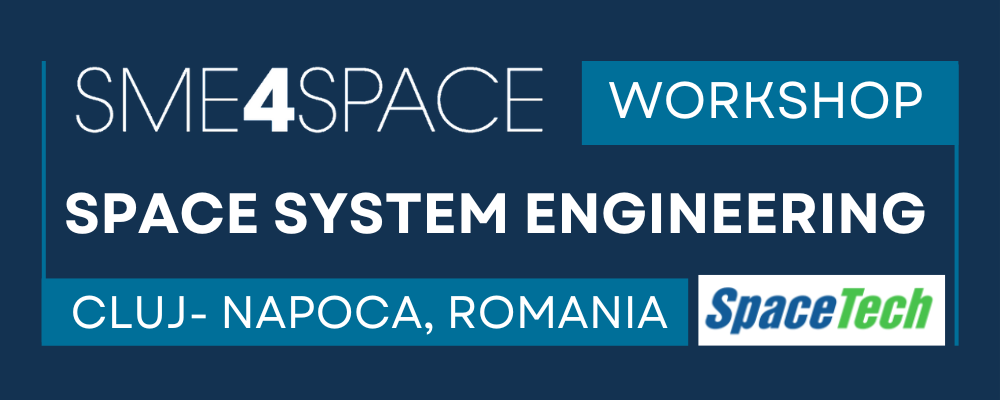 SME4Space will participate on the 21st of November 2023, in the "Space Systems Engineering" Workshop that will take place in Cluj-Napoca, Romania, at the Technical University of Cluj-Napoca. The event is organised by SpaceTech, our Working Member in Romania.
About the event
The event as part of a series of successful events in the past years. Considering the great interest of this initiative wants to try a larger format in 2023, with 100 participants and presentations given by professionals both from Romania and abroad from internationally renowned organisations, from the industrial, academic, and research environment. Their expertise in the aerospace field will facilitate the understanding of the new trends in technological development on an international level. The main areas of the presentations will be wireless communications, satellite navigation and positioning systems, artificial intelligence and other types of technologies applied in the aerospace sector.
SME4Space to Present the Role of SMEs in the European Space Industry at "Space Systems Engineering" Workshop
The primary subjects of the presentations will encompass wireless communications, satellite navigation and positioning systems, artificial intelligence, and other pertinent technologies applied within the aerospace sector. The workshop will serve as an informative platform for knowledge sharing and exploration of emerging trends in international aerospace technology.
---

A few words for Space Tech: Our Romanian Working Member
SpaceTech represents a pioneering initiative in Romania, focusing on the development of cutting-edge space technology. It's an NGO that seeks to drive local economic growth through advancements in aerospace technology, a field of global financial significance. Romania possesses essential components for space technology development, including manufacturing, engineering, design, IT, and R&D. SpaceTech aims to unite these elements to form a regional economic infrastructure with a keen interest in aerospace applications.
Their objectives include raising awareness about aerospace research funding, supporting national and international aerospace projects, participating in global forums, and creating a virtual testing lab. They also focus on organising events to disseminate research findings in aerospace technology, fostering aerospace education, and developing synergies through collaborative projects.