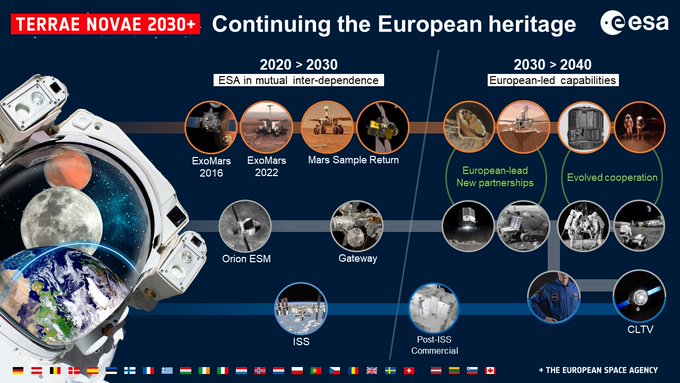 The ESA-industry workshop "Terrae Novae – European exploration strategy 2030" was held on June 21st and 22nd 2021 as a first step of the industry-institution dialogue towards the ESA programmatic proposals for the C-MIN 2022 on the Exploration strategy for 2030 and beyond.
The workshop was organised by ESA with the support of
SME4Space and Eurospace.
The workshop was on invitation only.
Workshop figures and highlights:
Participation:

200 participants, 70 panelists from ESA and industry, among which 10 SMEs had the opportunity to directly engage with ESA, LSIs and Mid-Caps stakeholders

Workshop Keynotes

David Parker – ESA HRE Director
Massimo Comparini – Thales Alenia Space – Deputy CEO TAS, ESVP Observation, Exploration and Navigation
Andreas Hammer – Airbus Defence and Space – SVP, Head of Space Exploration