About Us
SME4SPACE is a not for profit organisation registered in Leuven under the Belgian Law. The aim of SME4SPACE is to voice SMEs in the space sector viewpoint in a coordinated way and to facilitate their access to space activities, to ESA and particular EU programmes.
SME4SPACE
All the activities carry out by SME4SPACE aim at:
AIM 1
Defending SMEs interests and representing them towards the European Space Agency (ESA), the European Commission and its related agencies.
AIM 2
Emphasising the potential of the space SMEs in the supply chain and beyond and supporting Europe's industrial policy.
AIM 3
Fostering cooperation within our extended network of our members, large companies, research and academia.
AIM 4
Organising seminars and information sessions.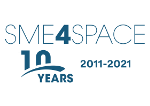 Do you want to be informed about opportunities for Space SMEs, participate in our surveys and participate in defining the European Space technology Roadmaps?
Subscribe our mailing list
Subscribe