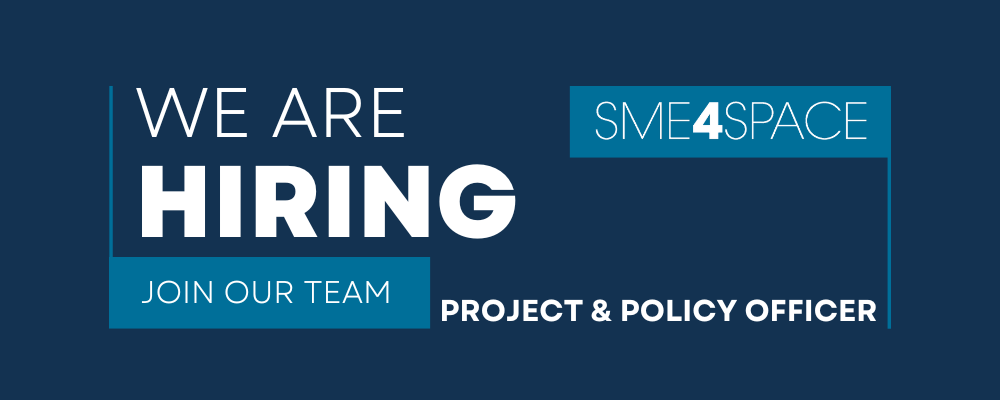 About SME4SPACE
SME4SPACE – the representative Organisation of SMEs in the European Space Industry (both from EU and ESA Member States) – is a not-for-profit association incorporated under Belgian law. SME4SPACE presently has members in 30 different European Countries gathering more than 850 SMEs.
The role
SME4SPACE is looking for a Project and Policy Officer to support the work of the Association. The person will interact with the European Space SME community as well as with many public and private stakeholders throughout Europe. The officer will also participate in and contribute to the execution of the different on-going EU and ESA projects as well as in new project acquisition. The person will work with the SME4SPACE Executive (Chairman, Board of Directors and Secretary) and he/she will support SME4SPACE Members. The selected candidate has to be flexible and motivated to participate in various transversal activities.
There are possibilities to shape the job to suit the skills of the person recruited.
Responsibilities
Work under the Space Co-Programmed Public-Private Partnership and other EU-funded projects
Consult relevant stakeholders;
Plan and implement actions to promote the Association, its members and the on-going projects;
Draft project deliverables and reports;
Support projects with surveys and analyses;
Conduct space-related analysis;
Represent the Association at meetings and international events.
Qualifications
Preference for, but not limited to, a Master's degree in Engineering or International Affairs;
Knowledge of the space sector;
Excellent project management skills;
Excellent level of English, both spoken and written;
Ability to learn quickly and to work autonomously;
Excellent knowledge of MS Office suite (in particular Power Point, Excel, Word);
In addition, the following qualifications would be an advantage:
At least 2 years of relevant professional experience, possibly in an international environment;
Experience in membership/community management;
Experience within the European Commission or ESA;
Knowledge of other languages;
Expertise in website development and management, CMS.
Offer
A competitive salary;
Flexible working hours and workplace;
The chance to be part of a dynamic and growing organisation with a strong international reputation;
The possibility to actively contribute to an SME friendly Space ecosystem.
Location
Workplace: Leuven (SME4SPACE headquarters). Availability to travel.
The person will be employed through a consultancy contract as an independent or an employee under Belgian law. The terms and conditions of the contract will be negotiated with the candidate selected.
Candidates are invited to submit their CVs together with a letter of motivation to SME4SPACE at chairman@sme4space.org by November 10th 2023.