SME4SPACE participates at the 2018 Polish Space Sector Forum to be held on 24 May 2018 in Warsaw. The Forum is organised by Polish Space Industry Association (SPACE PL).
SME4SPACE will present the first impressions on the New ESA procurement rules.
In 2016 when SPACE PL organised the 1st edition of the Forum almost 400 people gathered to discuss the future of space sector and possibilities of cooperation.
The Space Sector Forum 2018 will take place on May 24, 2018, at Centrum EXPO XXI Warsaw. The Forum will be an excellent opportunity to discuss the potential and achievements of the Polish space sector and the directions of its development.
The introduction of the forum will review the Polish Space Strategy. The implementation of the strategy was evaluated by representatives of the Ministry of Enterprise and Technology, Ministry of Science and Higher Education, Inspectorate of Innovative Technologies Implementation, Polish Space Agency and entities associated in the Polish Space Industry Association.
The first session of FSK2018 will be devoted to the results of the Polish space strategy evaluation and successful implementations of one and a half years since strategy publication. In this part of the conference, the Polish Space Industry Association will also present recommendations regarding the amount of the ESA optional program contribution and, together with the Polish Space Agency, will present the most important projects that can be implemented as part of the National Space Program.
Next sessions will be devoted to the European space sector, and more precisely to the actors who creates it. The second session will hold by representatives of the European Space Agency, the European Commission, the European Southern Observatory, non-governmental organizations such as SME4Space. During the third session, the representatives of the largest space sector companies will present opportunities for cooperation with the Polish space industry in the ESA programs, the European Commission and in commercial projects.
An important part of the 2018 Space Sector Forum will be the largest exhibition in Poland of achievements of Polish entities in the space sector and supporting institutions. During the exhibition, you will be able to talk to entrepreneurs and ask about current and future projects.
It is estimated that in the exhibition will participate around 60 entities.
We highly encourage you to register to FSK2018.
Participation in the conference and exhibition is free. The number of places is limited. The organizer reserves the right to close the registration earlier if the number of entries exceeds the number of available places.
For logistic information you can download the following handbook: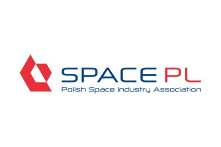 SPACE PL is the SME4SPACE Working Member in Poland, gathering 64 members, mostly SMEs, but also large companies and main Polish R&D institutions. SPACE PL works in order to enhance  the visibility of Polish entities in European space market and companies' competitiveness level.