Presentation of SME4SPACE & KU Leuven study on European Space SMEs financial viability – IAC 2022 in Paris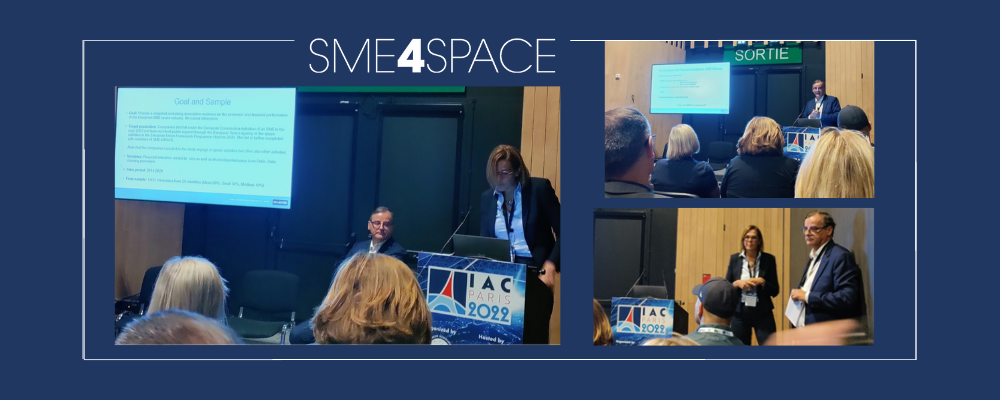 On September 21, during the 4th day of the International Astronautical Congress IAC 2022 in Paris, Prof. Marleen Willekens from KU Leuven and Hans Bracquené, SME4SPACE Chairman, presented the outcome of the study "European Space SMEs' Financial Viability: Insights And Policy Perspectives"
The study was conducted together with KU Leuven, with the support of the ESA SME Office and focused on the SMEs' growth performance as well as their financial position in terms of liquidity, leverage, and profitability.
Abstract of the paper:
Small and medium-sized enterprises (SMEs) are at the core of the European space industry and bring a strong contribution to its innovation and renewal. The context of the space sector is changing fast, including disruptive technologies and business models, and an increasing focus on commercial aspects. Space SMEs in Europe face challenges in terms of access to finance to ensure business stability and growth and a suboptimal investment landscape. These changes and needs require a dedicated policy but surprisingly, figures on the financial viability of the SMEs to underpin this policy are lacking. The ESA SME Office and SME4SPACE, together with KU Leuven, looked at the financial viability of space SMEs in Europe in the period 2014-2020, including early evidence on the impact of Covid-19. The target population of this study are companies that fall under the European Commission's definition of an SME in the year 2021 and have received public support through the European Space Agency or the space activities in the European Union Framework Programme Horizon 2020. This list is further completed with members of SME4SPACE, resulting in a sample of more than 1,600 companies.
For these companies, information on economic and financial performance has been collected for the period 2014-2020 from the ORBIS database. The central focus is on the SMEs' growth performance as well as their financial position in terms of liquidity, leverage and profitability. Among the SMEs, a distinction is made between micro-sized, small-sized and medium-sized firms, and between young and more mature companies.
Preliminary findings of the analysis for the period 2014-2020 showed that European Space SMEs are in a
good condition in terms of liquidity (average current ratio exceeds 1) and leverage (average leverage rate of 60%). However, the business is highly capital intensive and the average profitability is rather low (an average of about 3% return on assets). Based on these findings and consultations with the SME community the paper provides inputs for potential future measures for the industry stakeholders and policymakers.
You can get the full paper by clicking the "Download" button below:
You can access the presentation of the paper at the IAC 2022 in Paris, below: