SpaceUp project is organising a series of free webinars mainly focused on innovative Space SMEs, Start-ups and Scale-ups.
Did you miss anyone of the following webinars? Do not worry, all the webinars are recorded and available on SpaceUp YouTube channel and hereunder.
Stay tuned for the coming webinars.
How technology transfer and intellectual property rights can foster your company
Trademarks and patents are the perfect tools to boost technology transfer, an underestimated methodology which is capable of fostering your business in unexpected ways. In this webinar we will show why technology transfer and intellectual property rights (IPRs) are important for your company and the kind of impact you can expect from them. We will also explore how technology transfer is born and grows, and what tools you need to support it, such as trademarks and patents.
Speakers:
Tanya Scalia Project Manager – Innovation & Technology Transfer Unit at the Italian Space Agency
Lucia Bonventre Lawyer & Research Fellow – Innovation & Technology Transfer Unit at the Italian Space Agency
Registration link:  https://us02web.zoom.us/meeting/register/tZctdu6uqTopGNDuT_kI4sX0Hl5n-kNZs6He
May 20th at 14:00 CEST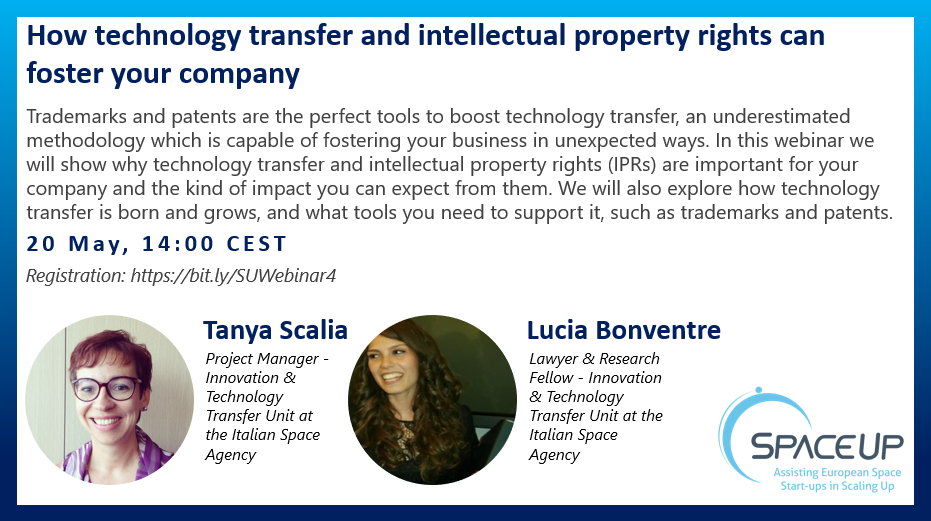 Living with a business angel: what a relationship between investors and entrepreneurs looks like
What is working with business angels? In this webinar you will hear about what the relationship between investors and entrepreneurs looks like and how to manage it. Moreover you will learn what investors expect from entrepreneurs during this relationship and what an investor provides (coaching, mentorship,…) at the same time.
Speakers:

Fabrice Testa, Co-chairman Luxembourg Space Tech Angels and EBAN Space Chairman
Lorenzo Scatena, Secretary General of E. Amaldi Foundation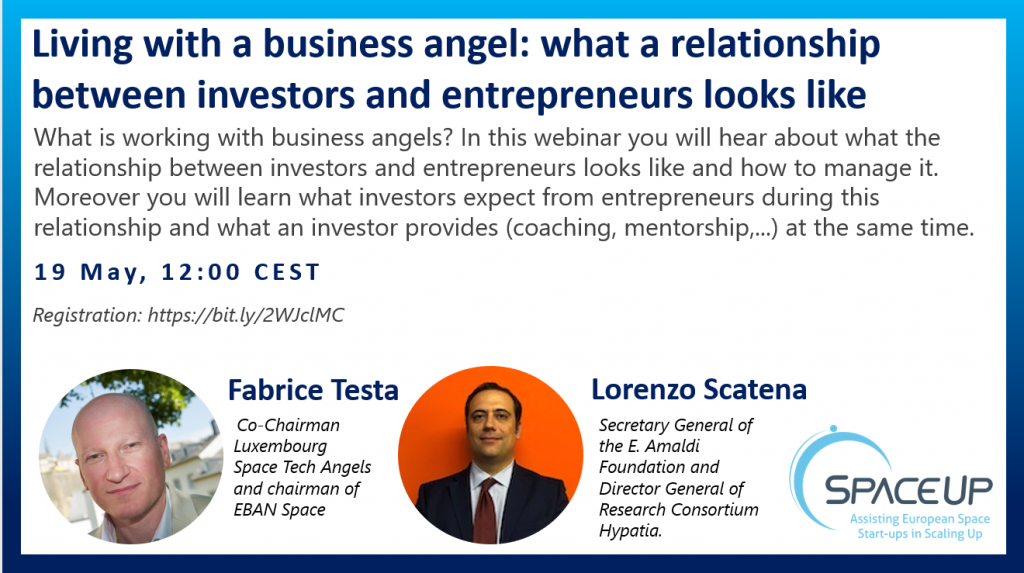 How to take advantage of crowdfunding to boost your business
Do you want an effective strategic and communication plan for your business? A crowdfunding campaign carried out successfully has several benefits, not only can your project get funded but you can also reach a wide audience of potential customers. In this webinar we will dive into the details to understand how important it is to have and execute a perfect strategic and communication plan, plus some tips & tricks for your crowdfunding campaign.
Speaker: Matteo Masserdotti, CEO & Founder Two Hundred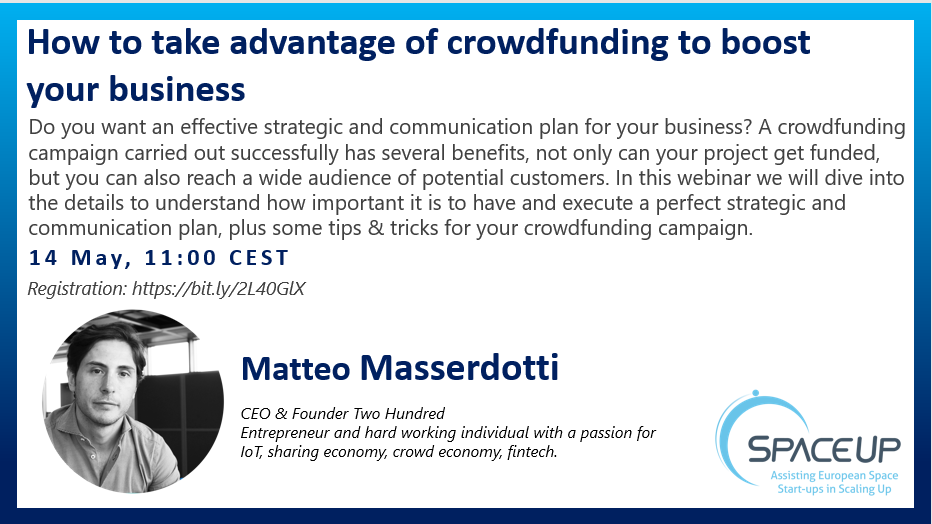 How to start up and scale up your business EU support programmes for space – With SpaceUp and Astropreneurs
Astropreneurs and SpaceUp are EU projects aiming at offering support to space-tech entrepreneurs in the startup and scaleup phase, respectively. In this webinar you will learn more about the support you can obtain to boost your business idea and your company, and, especially, how to join the two EU programmes.
OBJECTIVE: The main objective is to share with the audience the experience of both projects in supporting space or space related startups and scale ups across Europe
Present the project objectives, main activities, beneficiaires, so far acheived results and next activities and opportunities available for the startups and scaleups
Present examples from the support given to the selected startups/scaleups
Space funding gateway: how to navigate the maze of public financing for space-tech companies
This webinar held by Alexandre Mencik, Entrepreneur, co-founder of startups, director, board member, mentor and business angel, was designed to gain a better understanding of the public funding opportunities that are available in Europe for space-related business. During the webinar, we
help you navigating through the main programs that are available,
examine key issues including what can be funded, who has access and how much an entity can receive an
provide you with guidance, tips and recommendations to increase your chances to get funding and save your time.
---
How to craft a killer pitch
What makes a business pitch effective? In this webinar, powered by the SpaceUp project, Audra Elena Shallal will go through the key elements of an effective elevator pitch.Don't miss this opportunity: a funding deal needs a great presentation! Watch again SpaceUp webinar on How to craft a killer pitch with Audra Elena Shallal, Founder and Managing Director of Boss Consulting, EBAN Board Member.